For a few days last week I decided to try out the
blood type diet
just for fun. So to recap, type A's (me) are supposed to eat limited dairy and red meat, lots of wholegrains and vegetables and approved fruits. Here is what I ate for a few days: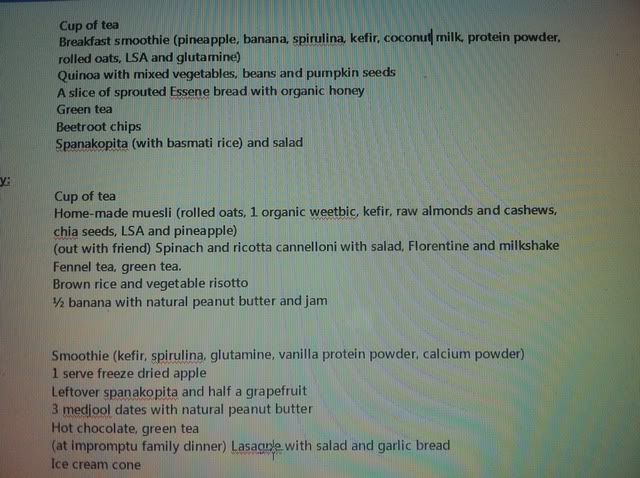 So I know I've taken a photo of the computer screen... you can deal.
But I find that life often gets in the way of a good plan. Example one. The family dinner with lasagne, pretty much the complete opposite of what I was trying to achieve (low meat, low dairy). But what can I do? Lasagne is delicious, and it would be rude to turn it down. Then on the weekend, well everyone knows what happens on the weekend. Even the best laid plans can get blasted out of the way of a good social life.
Speaking of social lives, I won't be able to post for the next couple of weeks because I'm off snowboarding in New Zealand. Pouvre moi! But I will let you know how it goes.
I'd just like to highlight the dessert in the middle of the photo - fresh banana with natural peanut butter and jam - YUM! Try it one day.
I think it's good to try a change in diet every once in a while because it's easy to eat the same thing over and over again. When you try new things, even if it's uncomfortable at the time, you can learn more about what yourself and your tastes.
Well I'll talk to you in a couple of weeks!
Stay healthy!
Jacqui